! - - - - "An excerpt from Conversations with Dali, Alain Bosquet Fifth, Sixth and Seventh Conversations ALAIN BOSQUET: Where is the border between genius and madness? SALVADOR DALI: This great problem has never been solved. The most celebrated psychopathologists don't know where madness begins and genius ends. My own case is even more difficult. I'm not only an agent provocateur, I'm an agent simulateur. I never know when I start simulating, and when I'm telling the truth. This is characteristic of my deep essence. It often happens that I say something, fully convinced of its importance and seriousness; a year later, I realize how childish the thing is and how uninteresting to the point of being lamentable. On the other hand, I may say something with a laugh, just to appear smart or to astound someone, but as time passes I become convinced that I've come out with something very fine and very important. These alternations ultimately confuse me, but I always manage to extricate myself. But whatever happens, my audience musn't know whether I'm spoofing or being serious; and likewise, I musn't know either, I'm in a constant interrogation: where does the deep and philosophically valid Dali begin, and wehre does the looney and preposterous Dali end? A.B.: But aren't you afraid that madness and genius may overlap? In other words, aren't you scared that eventually genius may do without madness and become very simple? And, vice versa, what would you do if madness ultimately devoured genius? S.D.: I'd like it to devour the other. A.B.: Don't confuse us. Which? S.D.: As in Heraclitus, we ought to attain a harmony of opposites, genius has to pass over madness, and madness over genius: the two of them are viscous and cosmic languages thanks to which the Divine Little Dali will remain below them, divided by two strata of personality that are paradoxical and contradictory. A.B.: You seem quite reasonable, today! ... ." Copyright 1966 by Editions Pierre Belfond. English translation copyright 1969 by E.P. Dutton & Co., Inc. Library of Congress number 78-87186 - - - - >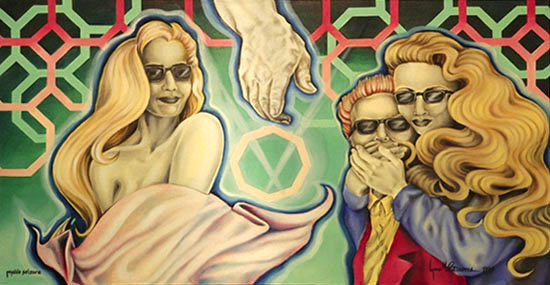 Psychic Seizure
1990: Oil on Canvas. 21" x 38"




Commissioned by
Mr. Wild Bill Cubbison (pictured at left) of Pittsburgh, PA.
Continue: Modified Ray Ban Girl | Back to vault entrance

BACK TO MAIN GALLERY

Contact Lynn Marie Greaves

© 1990 Lynn Marie Greaves. All rights reserved.
Studio | 818-757-3477