! - - - - "An excerpt from Conversations with Dali, Alain Bosquet Fifth, Sixth and Seventh Conversations ALAIN BOSQUET: What is your favorite color, and why? SALVADOR DALI: Naples yellow, because it's the color of proteins as well as the dominant color in certain chemical mixtures of cardinal importance for painting. After Naples yellow, I'm most strongly drawn to the color of oxygen, that is to say blue. In Vermeer, those are the two colors one finds most permanently. A.B.: You greatly dissapoint me, sensuously speaking, when you said you'd merely say hello to Sophia Loren if she came wandering in here naked. I noted the whim, but not without embarrassment: at the core of this sexuality which you never stop talking about and which is an area where you excel, there are moments of great coldness. I say this to you because of my next question: Would you like to spank Bridgette Bardot? S.D.: No! I have absolutely no sadistic impulses. For everything concerning the erotic, I would rather that specialists take over: they can spank her and whatnot. ...I'm a first-rate voyeur, and I should enjoy the spectacle." Copyright 1966 by Editions Pierre Belfond. English translation copyright 1969 by E.P. Dutton & Co., Inc. Library of Congress number 78-87186 - - - - >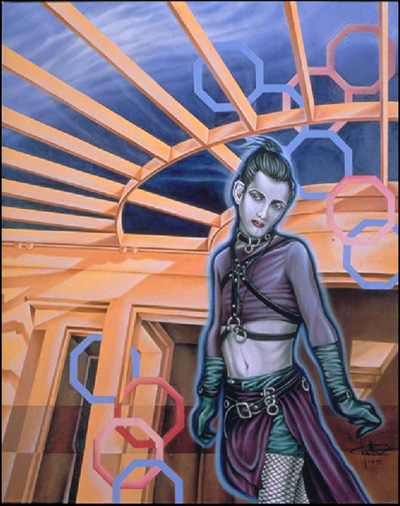 Darling, Come Here (Jeremy No. 3)
January 1999. Oil on Canvas. 30 7/8" x 38 1/8"



Acquired by Raul Martinez,
Mastro Productions | Cigar Renaissance Radio.

Continue: Life Under the Sheltering Sky | Return to 1999 Gallery Entrance

RETURN TO MAIN GALLERY

© 1999 - 2004 Lynn Marie Greaves. All rights reserved.
Studio | 818-757-3477